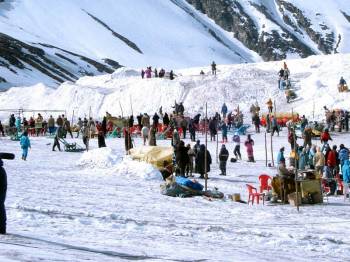 Manali and Shimla are beautiful hill station in Himachal Pradesh is the heart of the tourist attraction of India. While you have booked your Shimla Manali Holiday Tour from Delhi and you are at this place you will enjoy the traditional beauty of this place. It is still in perfect harmony with the changing time. The gem of all hill station the site offers its visitors with breath-taking views. Manali and Shimla perhaps is the ideal destination for the tourists to enjoy the scintillating beauty in the lap of Mother Nature.

What is so special about Shimla Manali Holiday Tour From Delhi?
Covered with lush green exotic flora and fauna, Manali and Shimla are the fabled tourist destination. Tour package to this place is the gateway to enjoy Himachal Pradesh in its serene beauty.
Shimla tours with its enthralling exquisiteness attract travellers to its fruits laden apple orchards. The mountain peaks in Manali are covered with the white snow, beautifully contrast with the lush green vegetation. The golden repose of the sun kissing the tops of the mountains seems the hill is decorated with gold ornaments. Most of all, the Manali is the fabled destination for one who wants to thrill with adventurous sports in remarkable beauty. The panoramic view of the mountains and the hills will leave you to be spellbound.

Major Tourist attractions
Enjoy the cold weather in the lap of Manali Mountains. Some of the significant tourists' attractions of Manali are
• Hadimba,
• Manu temple,
• Manali mountaineering Institute,
• Tibetan Monasteries,
• Vashisth Hot water spring

These major attractions of Manali are attracting tourists in its cold weather. This is the perfect destination of tourists to enjoy the natural beauty in perfect harmony.
The climate of the beautiful hill town- Shimla, is pleasant and it can be visited all around the year.

Prime attractions are:
• The Mall,
• the Ridge,
• the Tibetan Bazaar,
• beautiful hills,
• The Viceroy Lodge, etc.
A particular delight to Shimla tour package is to travel by mountain railways, the toy train to Shimla. The toy train journey will be a delightful experience of a lifetime.

Adventure sports to enjoy with Shimla Manali Holiday Tour From Delhi.

Manali and Shimla gives you enjoy some of the enthralling adventurous sports that no other tourists' destination of India provides. Adventure sports in the impressive landscape are the predominant feature of snow Cladded place. The tourists who are looking for adventurous games in the cold climate, Manali and Shimla are the perfect destination to enjoy.
Whitewater rafting and kayaking over the high flowing water of Beas River gives a thrilling and wonderful experience. Mountain biking, rock climbing and Heli-skiing simply thrill.

There are several trekking spots in and around Manali with heart-stealing beauty.
Popular adventurous and delightful sports
• Paragliding,
• skiing,
• heli-skiing,
• ice-skating,
• angling & fishing,
• trekking,
• rafting,
• mountain climbing etc.

Book Shimla Manali holiday tour from delhi online
If you book your package online then you will get some amazing benefits. Here are these:
• Saves you lot of time
• Easy comparing options
• Great excess to discounts and coupons
• Easy customisation
• Hotels and flight booking convenience
• Last moment availability
• Free cancellation policy